WHAT IS THE ROLE OF A PHYSIOTHERAPIST/PHYSIOTHERAPY?
Physiotherapists are health care professionals that assess and treat a variety of injuries/ conditions based on the science of movement. Not only do they have expertise in the field of injury prevention and rehabilitation, but also can help you by being educators, collaborators, advocates. They have a broad understanding of how to treat muscular and joints conditions, the cardiovascular system (ex. involvement of the lungs) as well as neurological conditions (ex. after a stroke or Bell's Palsy).
Physiotherapists will gather information regarding your injury/condition, assess motion and strength and work WITH you to develop goals during your assessment. (See how we do this below with our 2 part assessment). Treatments can be provided in clinic or virtually, in addition to a home exercise program, to strive towards your goal of increasing function, mobility or strength.
---
HOW DOES THE ASSESSMENT AND SUBSEQUENT TREATMENTS WORK AT PARTNERS?
Discovery Call: When you call, the administration team will set up a quick complimentary call within 24 hours directly with the PT(Physiotherapist) to get the Physiotherapy process started! The PT will ask you a couple questions about your injury/condition and determine how to book the assessment (see below).
Fee: Complimentary
Physiotherapy Assessment:
Part 1– This is a virtual session – start the assessment with the Physiotherapist either over the phone or by Telerehab (Embodia+Zoom). It is an easy and effective way to gather the history about your injury, ongoing symptoms and identification of goals for treatment and recovery.
Part 2– This can be in the virtual format or as an in clinic session (determined by you and the PT during the discovery call). The Physiotherapist will assess range of motion, strength and functional abilities to develop a TREATMENT PLAN that is a structure for rehabilitation based on your objectives.
Fee: Part 1 + Part 2= $90 total
PHYSIOTHERAPY TREATMENT, EDUCATION AND EXERCISE PROGRAMS
Our Physiotherapists and Registered Kinesiologist continue to evolve their practice through continuing education, allowing them to employ multiple treatment techniques. Many of the techniques the physiotherapists use are considered manual therapy procedures, which can be detailed below, but also include exercise prescription. The Registered Kinesiologist also provides exercise progressions, modifications and supervision in clinic or virtually in order to support the hands on techniques the Physiotherapists may use. Over the years we have been very supportive of continuing education which gives our Physiotherapists and Registered Kinesiologist the opportunity to incorporate such techniques as the McKenzie Method and the Mulligan Concept.
Fee for standard physiotherapy treatment: $60 with the Physiotherapist (in clinic OR virtual)
Common Techniques/Services Offered:
Soft Tissue Release is designed to focus on increasing recovery rates of muscular injuries, treating muscular imbalances, and relieving chronic pain. It is a popular form of therapy among athletes as it is a quick and effective way of improving flexibility after muscle injuries.
Pain Management education and technique is meant to help the client to gain control over their pain and improve the quality of their life. Rehabilitation strategies must be individualized to optimize improvement in physical function. Activity related goal setting and pacing of activity play key roles in the clients with chronic pain.
Myofascial Release is a manual therapy technique that is utilized to help relieve pain and tension that is due to injury or stress. Its purpose is to access the areas of blockage and tension to release them, thereby freeing up the muscle and allowing it to move more easily and effectively.
Connective Tissue Massage is a form of massage that releases connective tissue restrictions in the body and to break up any restrictive scar tissue. It helps relieve chronic tension, to increase the range of motion and can help to improve posture. It provides relief from symptoms without requiring excessive force.
Trigger Point Release is a technique used to treat muscle spasms and muscle knots. A trigger point can affect not only the muscle but can also cause referred pain in tissues supplied by nerves. Trigger points are tender to the touch and can cause a decreased range of motion in the affected muscles. The physiotherapist will locate and deactivate them using finger pressure. They will also teach the client how to move in different ways to keep them from recurring.
Kinesio Taping gives support and stability to your joints and muscles without affecting circulation and range of motion. It is also used for preventative maintenance, edema and to treat pain. It allows a full range of motion and normal biomechanics.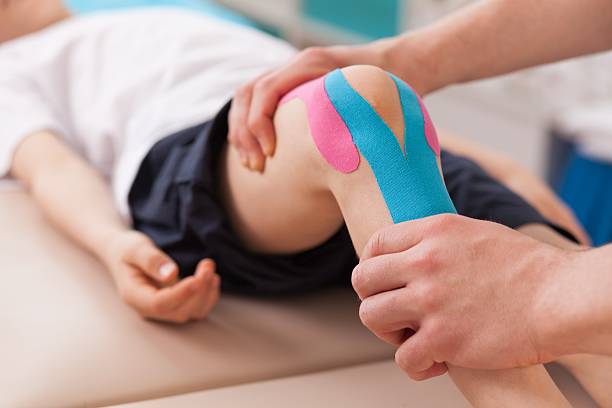 Therapeutic Taping is used to relax overused muscles and to facilitate under used muscles. It allows a large range of motion while still protecting movement.
Vestibular Rehabilitation is an exercise focused approach to assist in decreasing dizziness and disequilibrium symptoms associated with peripheral vestibular pathology. It involves specific exercises designed to decrease vertigo, improve balance function and increase activity level. Vestibular Rehabilitation will assist in promoting central nervous system compensation for the inner ear deficits. It is a highly effective modality for most adults and children with disorders of the peripheral or central balance system.
Cold Therapy is extremely useful for acute injuries as less blood flow helps to reduce and prevent further swelling and inflammation.
Heat Therapy is used for sore, stiff, nagging muscle or joint pain. It is used before exercise to increase the elasticity of joint connective tissues and to stimulate blood flow. It can also help relax tight muscles or muscle spasms.
Ultrasound treatment is the use of high frequency sound waves directed into a specific area of the body. Overstretched or torn muscle, tendon or ligament (strain or sprain) will heal faster and with a much better final result. Swelling and inflammation is reduced faster. Stretching and exercising of tight muscles and joints becomes easier. Scar tissue either internal or external will be less painful, more flexible and strong.
TENS refers to the transmission of low level electrical pulses through the skin to the underlying peripheral nerves. It relieves pain by having a direct effect on the pathway the pain is taking into the central nervous system. It reduces the sensitivity of the cells which transfer the pain onward to the brain.
Interferrential Current Therapy is a treatment to aid the relief of pain and the promotion of soft tissue healing. Tiny electrical impulses are induced into the tissues in the area of pain. Where these waves intersect below the surface of the skin, the low frequency stimulation induces the body to secrete endorphins, which are the body's natural pain killers. This treatment can also reduce painful symptoms, decrease local swelling, help restore normal movement and accelerate the healing process.
Hydrotherapy is used as a treatment for a wide range of conditions in a heated pool environment. It utilizes the warmth to relax muscles; the buoyancy to assist or resist movement; and the weightlessness to decrease pain and decrease stress on joints while you exercise.
If you are wondering about a technique, but do not see it listed here,
please do not hesitate to call us 519-881-8373.
NOTE: The cost of treatments and assessments are set in accordance with guidelines provided by the Canadian Physiotherapy Association based on service provided by the Physiotherapist and professional staff as well as specific programs (e.g. fitness, pool program), etc.
For more information regarding the Physiotherapy or Kinesiology professions or what to expect as a client please see the resources below. The regulatory colleges and professionals associations have an abundance of information available for you as a client to browse and often release new and interesting articles or blog posts.
Physiotherapy:
OPA(Ontario Physiotherapy Association/ CPA(Canadian Physiotherapy Association)/ CPO(College of Physiotherapists of Ontario)