Partners Physiotherapy Service is dedicated to working with you and all other members of your "Health Care" team to provide assessment, treatment, education and consultation relating to the practice of Physiotherapy and other health related issues. Partners Physiotherapy Service exists to provide, promote and support a clearer appreciation of personal and community health care based on knowledge, caring and understanding through education and experience. Partners Physiotherapy Service is positioned to be a leader in community based health care by working together with all stakeholders. We will strive to lead through knowledge, collaboration, compassion and partnership.
May 29, 2020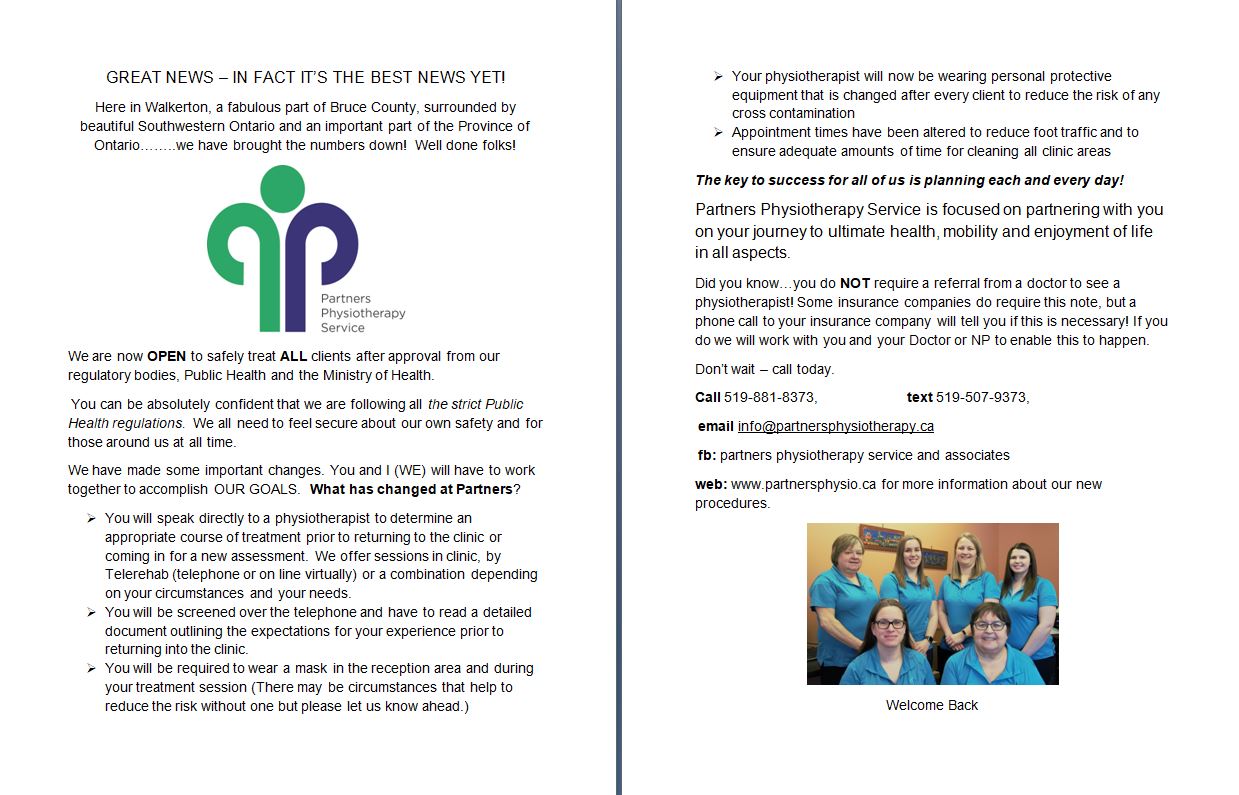 Partners Physiotherapy Service – Operation with COVID19 Present
Client Information
We ask that you arrive for your scheduled – in clinic- appointment no more than 5 minutes before your appointment time.
Don a mask prior to entering the building. If you don't have one, we will supply one at your first appointment only. (We have a supply provided by a generous Bruce Power donation. We ask that if you have your own – please use it so that we can spread these to those who don't.)
Please use the hand sanitizer before touching any surface in the clinic
Check in with the front desk. Please stand off the mat in front of the office as this will ensure the appropriate distance is maintained.
Remove your outside shoes and place them on the boot trays immediately upon entry. There are clean slippers available and will be laundered here after every use. Please put them in the appropriate bin when you take them off.
You may then have a seat on one of the available chairs
Please do not bring any extra clothing or other items into the clinic. Leave them in your vehicle or at home. Coats and outside garments are to be hung on the hooks at the front door. No food or drinks.
You may only bring car keys and a wallet or credit card with you and you will need to keep in your own pocket. We will provide a plastic bag to put them in if you do not have pockets J
Only one support person may attend with you to your appointment and they must follow the above guidelines and respect all social distancing (2 meter/6 feet) rules.
You will be greeted in the front lobby by your physiotherapist and escorted to the appropriate treatment room.
Our client washroom is for emergency use only. Please try to prepare for your time in clinic by using your own washroom at home.
If you need to change clothes while you are here you will be able to do that in the treatment room. However it is safer for you to wear the appropriate clothing and you will be instructed by your physiotherapist what you will need to wear during a treatment.
The treatment rooms and equipment used are sanitized after each client use.
If you are requested to fill out a form or questionnaire in clinic, we will provide the paperwork and the pen and a clip board. These are all sanitized after every use.
After your treatment – please return to the front office to make or confirm your next appointment. Do not wander into the area where the chairs are. Leave directly after you have completed all interactions with the front office.
Preferred methods of payment are credit or debit. We will not take coins and paper bills at this time.  Cheques will be accepted if that is your only payment option.
We ALL have to take these procedures seriously, if we get sloppy, we are opening the door to the spread within our office. We do not want to put you or the staff here at risk. If we have one case, and it spreads, we will be closed. Let's minimize the potential for a second wave.
The key to success for us is planning our prevention each and every day.
If you require any clarification on this information, please ask us for more help
I would not be able to sleep at night knowing I did not prevent you or any of our clients or team mates from getting hurt by this virus. Stay well. Stay safe.
Wendy Baines
Owner/ Physiotherapist
April 22nd, 2020
Good News!
We are open and here to support you!
As of April 20th, 2020 Partners is now offering Telerehab services through telephone consultations as well as online screen sessions for existing AND new patients/clients!
What is Telerehab? Telerehab uses a variety of platforms to deliver patient/client care when there are reasons why someone cannot attend an in clinic appointment, for example they live in a rural location or due to Covid 19 restrictions. Partners is using the exercise platform Embodia combined with Zoom Healthcare to provide safe and secure online sessions!
Why Telerehab? Telerehab allows the clinician and patient/client to maintain an active course of treatment or assist those with acute and chronic injuries/conditions. Physiotherapists can provide a diverse amount of education, supervise and prescribe exercises, assist with home ergonomics and so much more… all during a screen session!
How? Contact the clinic at 519-881-8373 or at info@partnersphysio.ca to find out more information about the length of sessions, the process to set up an appointment or account and the fees for an assessment/treatment (FYI: more insurance companies are now covering this service!) Our office hours are Mon – Fri. 8:30 – 12, 1:00 to 4:30.